It was a dark and stormy night. Suddenly, somewhere just south of the 38th parallel, a shot rang out...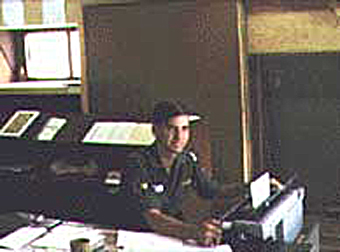 Here I am at my analog computer...
Late in the summer of 1967 I arrived in Korea. The Army could have sent me anywhere, since I was trained as a clerk typist, but in its infinite placement wisdom, sent me to Camp Ross, a small compound situated in the rolling hills of northern South Korea, just a few miles south of the DMZ.
Camp Ross was considered a "security" compound. It was there that our covert operators (spys) would report. It was here that their covert operators (North Korean spies) would be interrogated. (For those of you familiar with the TV series M*A*S*H, Camp Ross was the place Colonel Flagg would have hung out.)
My job was to do general office duties and to type up reports. However, I left this job before getting my top secret clearance. And leaving this job got me in a lot of trouble. I auditioned for the "General's Chorus," a full-time entertainment outfit that had a touring variety show and three touring bands, and got the job. Because the captain I worked for ordered me not to audition, he intended to court martial me for disobeying his orders. Since he couldn't legally court martial me, he instead gave me an "Article 15," which is called "non-judicial punishment." It's nothing more than a kangaroo court. An officer can dock your pay, confine you to quarters, or even lock you up for no more than 24 hours. I was confined to the compound for 10 days, and then I shipped out to Recreation Compound #1 (RC1).
---